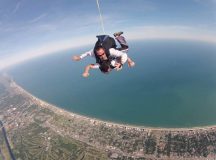 Discovery in the SkyDive Myrtle Beach v. Horry County et al lawsuit is ongoing with depositions from defendants set to begin at the end of February 2020.
The lawsuit evolved from the county shutting down operations of SDMB and evicting them from the North Myrtle Beach airport using a Director's Report from the FAA in which 112 alleged safety violations played a large part in the FAA claiming SDMB operations at Grand Strand Airport were unsafe.
This is where things get tricky. The county used an informal means, a county generated form called an "Unusual Incident Report", to report these alleged safety violations. When responding to a Freedom of Information Request for documentation associated with these reports, the county responded by sending the Unusual Incident Reports but no supporting documentation.
A short memorandum from county attorney Arrigo Carotti included with the FOIA response said, "These records are provided in an abundance of caution, in that each may or may not demonstrate violation by Skydive Myrtle Beach of Horry County Department of Airports Minimum Standards, as that assessment has not been undertaken."
In other words, the county reported alleged SDMB had committed 112 safety violations without ever investigating any, according to Carotti's memo.
When a FOIA request for documentation on the 112 alleged safety violations was sent to the FAA, the response from Thomas A Winston, Manager Flight Standards Division, Southern Region of the FAA was, "You requested information regarding 112 allegations of safety violations used to make the table in the Director's Report dated October 7, 2015 by Randall Fiertz. We searched our files maintained in the South Carolina Flight Standards District Office. We could not find any documents responsive to your request."
The FAA had no documents supporting any of the 112 alleged safety violations. Anytime a suspected safety violation has taken place at an FAA regulated airport, a Mandatory Occurrence Report is supposed to be filed with the FAA. No MORs were found in the FAA system with respect to the alleged violations by SDMB.
Read more ›