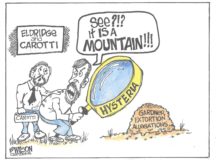 As the county awaits the report of the SLED investigation into alleged wrongdoing by county Chairman Johnny Gardner, initiated by County Administrator Chris Eldridge and County Attorney Arrigo Carotti, it appears those two are attempting to couch a defense for their actions in the pose of whistleblowers.
This has been obvious since the January 4, 2019 special meeting of council when both appeared at the meeting with personal attorneys.
The Eldridge letter presented to council members after the special meeting specifically speaks of him being a "target of retaliation" if he is either fired or suspended by council – a classic whistleblower defense.
There is one major fault with this defense. Whistleblowing protections are not extended to those who report potential wrongdoing based on unsubstantiated hearsay and rumors.
According to documents written by Carotti and Eldridge, unsubstantiated hearsay and rumors are all they had to justify the imaginary plot they had developed in their minds.
In its simplest form, that plot goes this way – Gardner campaign manager Luke Barefoot and Gardner, by extension because he accompanied Barefoot to one meeting held on November 30, 2018, with two Myrtle Beach Regional Economic Development Corporation (EDC) officials, attempted to have the EDC pay Gardner campaign consultant Donald Smith so that a rumored negative story about the EDC would not appear in Grand Strand Daily. (Total Rumor)
On or about December 5, 2018, Carotti and Eldridge learned that a tape recording of that meeting existed and, apparently, believed it contained a "smoking gun."
On December 12, 2018, Eldridge wrote an email to Neyle Wilson, Chairman of the Board of the EDC, sharing "conversation points" (hearsay) EDC CEO Sandy Davis allegedly told to Carotti about that meeting. In the email, Eldridge complained that the EDC had "an unwillingness to share the taped recording" even though the email is part of an email string in which Wilson twice (December 7 and December 12) offered to allow Eldridge to listen to the recording.
Read more ›