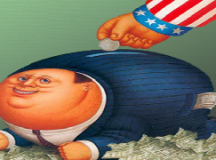 Horry County Council will consider two resolutions at its meeting tonight to complete this fiscal year's budget process.
The resolutions will be to approve funding agreements with the Myrtle Beach Regional Economic Development Corporation for two years and with Coast RTA for one year.
These votes will be the final acts of contempt toward county taxpayers in a budget year that brings the largest property tax increase in a generation.
Led by the Republican 'Gang of Five' (Mark Lazarus, Al Allen, Johnny Vaught, Gary Loftus and Bill Howard), Horry County Council chose to raise property taxes by 7.2 mils ($13.5 million) without even considering during budget considerations whether funding should be cut for the MBREDC and Coast RTA.
Of course, MBREDC and Coast RTA funding weren't the only possible savings in a $130 million general fund budget that could have been looked at.
It was just easier for the Republican 'Gang of Five' to raise taxes than to go through the details of the budget.
Read more ›