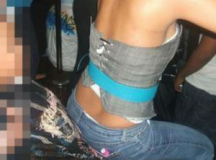 Horry County passed second reading of its new adult entertainment ordinances at its regular meeting Tuesday night bringing its day in court closer.
Passage of third reading seems assured next month and as council chairman Mark Lazarus said, the next day he expects the current adult entertainment establishments operating in the unincorporated areas of Horry County to be in Florence filing for injunctive relief.
While all of the current adult entertainment businesses will be out of compliance with the new ordinances, adult entertainment will not be removed from the unincorporated areas.
Read more ›