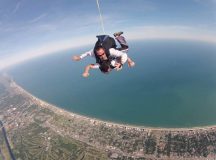 The S. C. Supreme Court granted approval of a petition by SkyDive Myrtle Beach (SDMB) for a writ of certiorari to review the Court of Appeals decision in the case of Skydive Myrtle Beach, Inc. v. Horry County.
The Supreme Court order was issued January 10, 2019.
This means the case, once described by Horry County Attorney Arrigo Carotti as "rightfully dismissed by all who have discerned the true set of affairs," was not treated in that fashion by the Supreme Court.
Referring to SkyDive Myrtle Beach owner Aaron Holly, myself and others, Carotti wrote the following to a council member inquiring about the case:
"On Aug 15, 2017, at 11:24 AM, Carotti, Arrigo wrote:
The misrepresentation of facts and the law has been ongoing on the part of Mr. Holly, misguided bloggers, and Holly surrogates for several years now, involving universally unsuccessful litigation by Holly, and pending litigation against the FAA, the State of South Carolina, Horry County, officials and employees. There have been no new admissions, the FAA's and County's sound positions in the matter remaining the same.  Defamatory commentary on the part of Holly and his surrogates also has been ongoing and is expected to continue, but has been rightfully dismissed by all who have discerned the true set of affairs, borne out in voluminous court documents and public records.
Arrigo P. Carotti / County Attorney"
Carotti is certainly entitled to his opinion (we should not take it as fact) about the merits of the case and stories written about it, but it seems the Supreme Court has a different opinion.
The original case was filed on February 28, 2014 against Horry County under the general court classification "Unfair Trade Practices." It alleged a pattern of harassment by the County and its Department of Airports (HCDA) with the ultimate goal of removing SDMB from Grand Strand Airport (GSA) as the original complaint states:
"The current actions by the County and HCDA are part of a continuous ongoing pattern of harassment utilizing governmental mechanizations and actions that create the appearance of legitimate state action but amount to an illegal attempt to remove SDMB from GSA without cause…"
Read more ›